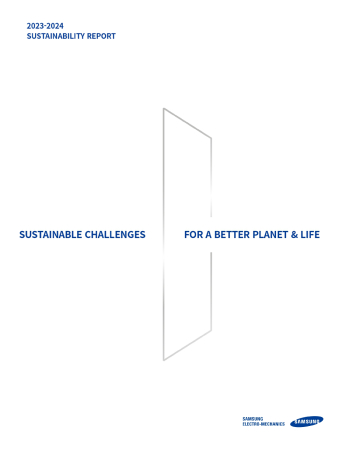 2022-2023 Sustainability Report
(Reporting period 2022.1.1~2022.12.31)
Samsung Electro-Mechanics' 2022-2023 Sustainability Report contains the CEO's message on the direction of our management strategy, and it also describes our sustainability strategy and value creation methods.
We described material issues in detail in the "Highlights on Material Issues" section of the report and attempted to efficiently disclose our sustainability performances in three categories: Sustainable Planet, Sustainable People and Sustainable Progress.
The reporting period for this report is the 2022 fiscal year (January 1, 2022 to December 31, 2022). Some of the key issues' data from before 2022 and the first half of 2023 are also included. To demonstrate the changing trend, we also used five years of quantitative data from 2018 to 2022. We plan to use this report as a window to communicate with stakeholders on our overall sustainability activities.