This product provides functions to take photos and videos via mobile devices such as smartphones, as well as on automobiles and smart home appliances. High-level technologies are required for mobile devices as they become small and slim, and as customers demand high resolution and multiple functions. We own advanced technologies based on the optical, electronic, and electric mechanism design know-how that are necessary for camera modules.
Application

Smart Phone, Tablet, Game Consoles, TV, Vehicle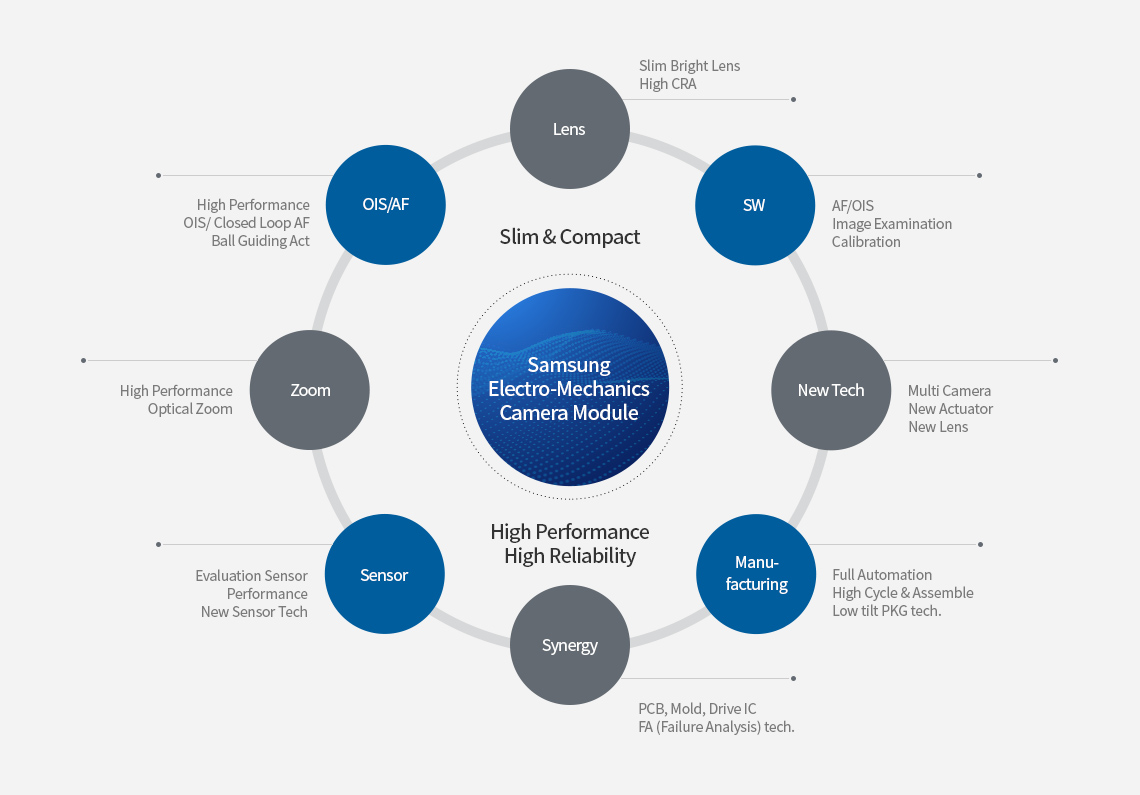 Lens
Actuator(AF/OIS)
Image Sensor
RF-PCB
Samsung Electro-Mechanics designs and manufactures
key components such as lenses and actuators, and produces
camera modules for mobile and automotive purposes.
Lens
Actuator(AF/OIS)
Image Sensor
RF-PCB
Key Core Technologies
Samsung Electro-Mechanics possesses the precision-package technology and evaluation technology, and provides high-end camera modules with various functions based on high-definition, high-performance, and slimming technology.
High Definition

Dual Camera

Bokeh, Optical Zoom

High Resolution Slim Lens
Technology

Aspherical Multi-Lens Designs
High Precision Molds/Injection/Assembly

High Performance

Triple Camera

Bokeh, Optical Zoom,
and Wide-Angle Photography

High-Performance Miniature Actuator Technology

AF/OIS, Iris, and Zoom Designs
Contamination Free, Automated Assembly

Slimness

Quadruple Camera

Bokeh, Optical Zoom, Wide-Angle,
and 3D Sensing

Component and Package Slimming Technology

Slim Lens, Actuator
Slim Package Design/Manufacture
OIS(Optical Image Stabilizer) Technology

The Optical Image Stabilizer (OIS) technology detects shakiness of the camera and shifts the lens to prevent image blur, allowing for steady photography.

Folded Zoom Technology

High magnification zoom photography is available to users through our Folded Zoom technology.