The camera module is a product used to take photos and videos from mobile devices, such as smartphones, automobile, and smart home appliances.
In all areas, a high level of technology is needed that requires high resolution, miniaturization, slimming, low-power, and high stiffness. Samsung Electro-Mechanics designs and manufactures core components such as lens, actuator, and PCB in-house. As the only company equipped with all of the major core technologies for designing and manufacturing world-class camera modules, we produce camera modules for mobile devices and automobiles.
Application

Smartphone, Tablet, Gaming Devices, TV, Automobile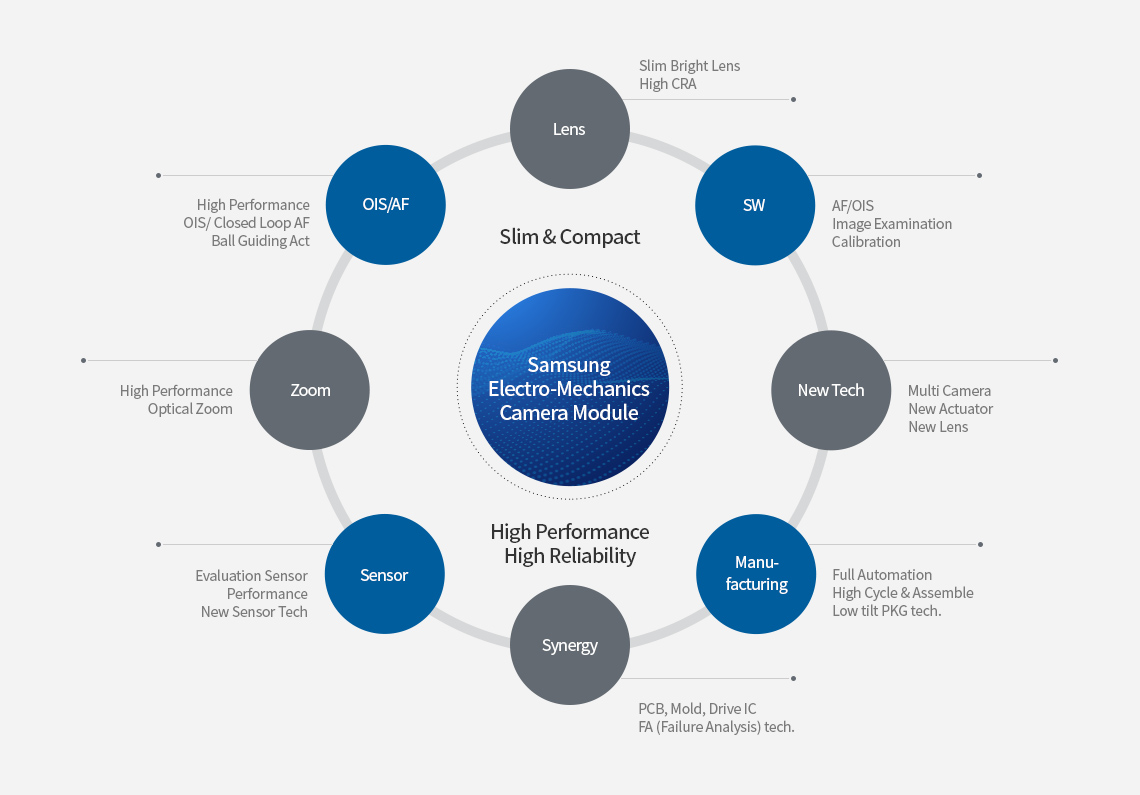 Samsung Electro-Mechanics Camera Module
Lens - Slim Bright Lens High CRA
SW - AF/OIS Image Examination Calibration
New Tech - Multi Camera New Actuator New Lens
Manufacturing - Full Automation High Cycle & Assemble Low tilt PKG tech.
Synergy- PCB, Mold, Drive ICFA (Failure Analysis) tech.
Sensor - Evaluation Sensor PerformanceNew Sensor Tech.
Zoom- High PerformanceOptical Zoom
OIS/AF- High PerformanceOIS/ Closed Loop AFBall Guiding Act.
Key Products Introduction
Main Mobile Camera Modules

Wide Camera Module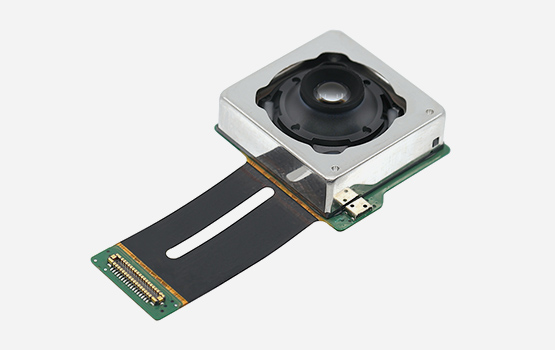 108M OIS/AF Camera Module

This is a slim OIS/AF mobile camera module that can take 108M high resolution photographs. By applying 100M-pixel Nona sensors, the camera can capture images effectively in low luminance environments, and with the increase in size and weight due to the application of large caliber lens resulting from the increase in sensor size, an actuator with impact resistance and high reliability was applied.
Module : 108M, FOV 100
Lens : Super Resolution Lens
OIS : Super OIS (Ball Guide)
Zoom : x1 ~ x4 (Crop Zoom)
technical specification of 108M OIS/AF Camera Module.
Sensor
Resolution
108M
Format
1/1.33"
Pixel Size
0.8um
Lens
Constitution
7P
FOV
79.5°
F#
1.8
TTL
7.8mm
Actuator
Type
OIS/AF
Tele Camera Module - Vertical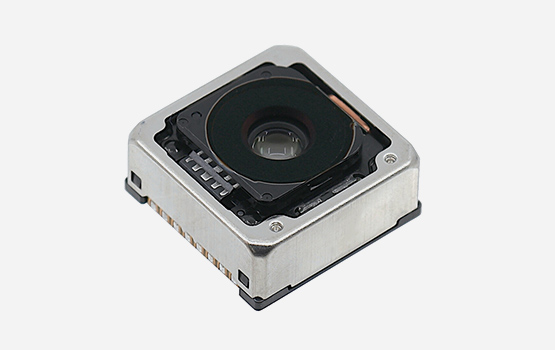 13M 2x OIS/AF Camera Module

This is a general camera module with an ultra-small 2x optical zoom and optical image stabilization (OIS).
Module : 13M 2x OIS Module
Ball Guide Actuator
Sensor : 1/3.42"
OIS D-IC inside of Module Head
technical specification of 13M 2x OIS/AF Camera Module.
Sensor
Resolution
13M
Format
1/3.42"
Pixel Size
1um
Lens
Constitution
6P
FOV
45°
F#
2.4
TTL
5.42mm
Actuator
Type
OIS/AF/Zoom
Tele Camera Module - Folded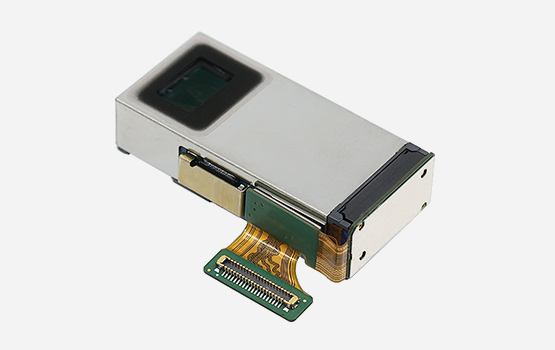 48M Folded Tele Camera Module

While providing high-quality resolution and high-magnification optical performance at par with DLSR on mobile, this folded type camera module provides slim/miniaturized design. The camera applies the world's first 2-axis prism tilt OIS and high-quality slim lens to reduce the height.
Module : 48M, 6.9T, Folded Type
ZOOM : 4.1x Optical Zoom
OIS : Prism X, Y Tilting Stabilization
AF : Ball Guide Lens Moving
technical specification of 48M Folded Tele Camera Module.
Sensor
Resolution
48M
Format
1/2.0"
Pixel Size
0.8um
Lens
Constitution
5P
FOV
23.5°
F#
3.5
TTL
18.51mm
Actuator
Type
OIS/AF/Zoom
Ultrawide Camera Module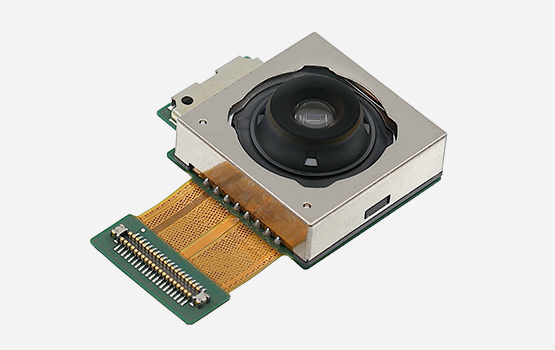 12M Ultrawide AF Camera Module

As an ultrawide camera (124.5 degrees) module that can capture a greater area than the general mobile camera (75 degrees), it provides crisp videos and wider backgrounds using an automatic focusing function.
Module : 12M Ultrawide
Auto-Focus
FOV : 124.5°
16.4mm Eq. Lens
technical specification of 12M Ultrawide AF Camera Module.
Sensor
Resolution
12M
Format
1/2.56"
Pixel Size
1.4um
Lens
Constitution
6P
FOV
124.5°
F#
2.2
TTL
6.2mm
Actuator
Type
Ball guide AF
Mobile Camera Modules Lineup
Various lens features, various sensors features, and various mechanical functions can be combined, such as OIS/AF and optical zoom, into a camera.
* You can find detailed information on each feature and function by clicking on the box.
technical specification of 12M Ultrawide AF Camera Module.
Sensor Resolution
~12M
13M
16M
20M
48M
64M
108M
Single
Dual
Triple
Quad
Main Automotive Camera Modules
Complete Camera Line-up for ADAS/AD*
* ADAS(Advanced Driver Assistance System), AD(Autonomous Driving)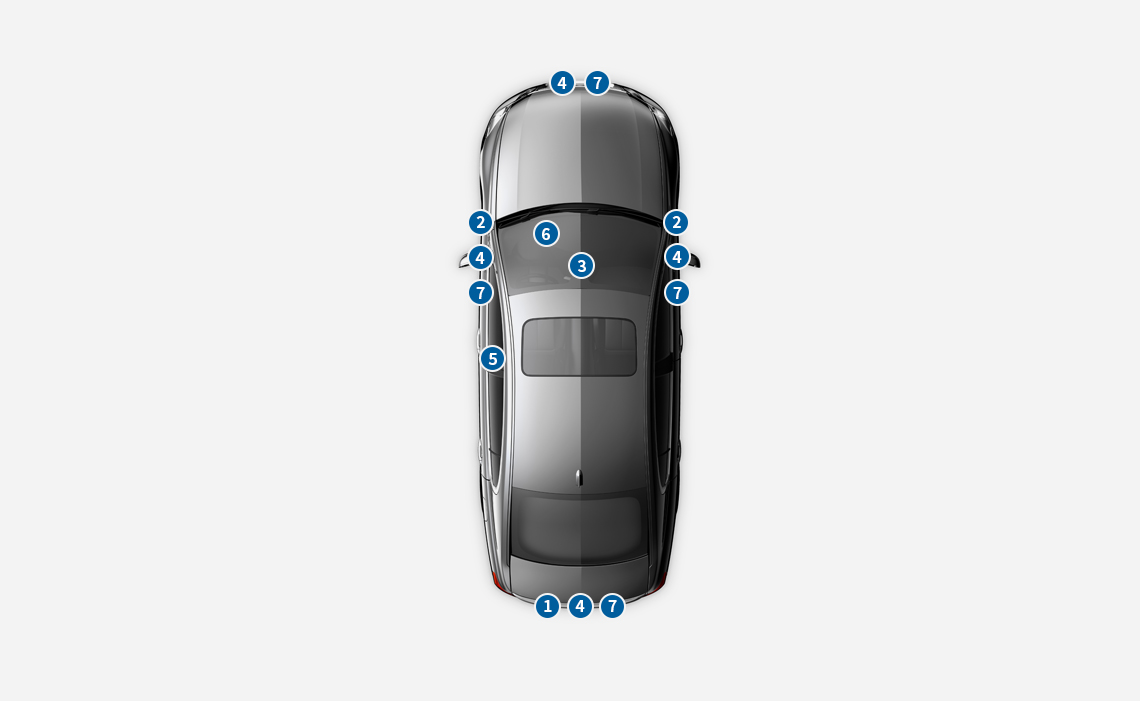 1

Rearview Camera

- Up to 3Mp, Small Form Factor
- Parking Assistance

2

e-Mirror

- Up to 3Mp
- LED flicker mitigation
- Heating Solution

3

Front Facing

- Up to 12Mp
- Mono, Dual, Tri-focal
- LDW*, LKA*, FCW*, TSR*, AEB*

4

Surround View Camera

- Up to 3Mp & Wide FOV
- 3D view, Park Assistance

5

Side Detection Camera

- Up to 5Mp
- Blind Spot Detection

6

Interior Camera

- RGB + IR
- Driver/Passenger monitoring

7

Multi View Camera

- Low cost switchable 4-ch Monitoring Solution
- View Mode setting : One by one, Auto, Manual
- 4-ch camera
* LDW (Lane Departure Warning), LKA (Lane Keep Assist), FCW (Forward Collision Warning), TSR (Traffic-Sign Recognition), AEB (Autonomous Emergency Braking)
Camera Module Main Core Technology
Maximization of new user experience based on high resolution, high magnification, and slimming
Samsung Electro-Mechanics holds high precision design technology and mass production technology for lens, actuator, and PCB, which are the core components of the camera module. Based on high-resolution slim lens technology, high-performance miniaturized actuator technology, optimized and curved PCB design technology, and module integration technology, we provide high-end camera modules with various features and functionalities.

Actuator
The actuator is a component that functions to secure focus or stabilize images by rapidly moving the lens within the camera module at high speed. Key functionality includes AF, OIS, and optical zoom.

AF (Auto-Focus)

A functionality that moves the location of the lens to find the optimal focal point

OIS (Optical Image Stabilizer)

A functionality that adjusts the location of the lens by detecting the amount of hand shaking
Advanced Ball Guide Actuator
The ball guide method is applied to Samsung Electro-Mechanics camera module products. Through this, AF, OIS operation is possible for high weight lens components compared to suspension or spring support methods. In addition, by applying a 2-axis ball guide by categorizing the support area into X, Y stages during OIS operations, we were able to remove the rolling phenomenon by eliminating cross-talk during the operation of each axis. Due to exceptional operation speed and accuracy, we were able to secure high reliability along with advantages in exceptional battery consumption savings.

Ball Guide structure (High reliability, high performance)
Great impact resistance reliability compared to other methods
Operation of heavier lens possible as high pixel trend requires it
Securing of high precision operations based on
structural separation of the lens movement axes
Productivity improvement and failure mode optimization
through process minimization
Precision control of OIS & AF using closed-loop control system
Low power operating system optimized for mobile
| Type | Ball Guide | Spring & Wire |
| --- | --- | --- |
| Structure | | |
| Settling Time | (Relatively) Short | Long |
| Crosstalk | No | Yes |
| Weight Limit | Over 1000mg | Below 1000mg* |
| Power Consumption | Low | High |
| Compensation Angle | High (1.5˚) | Low (1.0˚) |
* Spring deformity and wire breakage occurs upon impact
Zoom Actuator
The zoom actuator is a component needed to provide optical zoom. The optical zoom is a function that controls various magnification rates by using various layers of lenses. As a result, unlike the digital zoom, you are able to obtain bright and clean photographs when magnifying distant subjects. In order to obtain the traditional module height and high magnification zoom, a folded method zoom actuator is available.

Small and slim folded (curved optical system applied) high magnification zoom module
Ease of securing of high magnification, high performance with prism tilt + ball guide structure
Ease of performance expansion: Long stroke-applied multi-level zoom, 2D scanner application possible
Heavier lens application possible by applying ball guide actuator
Productivity improvement and failure mode optimization through process minimization
Securing of high precision by implementing closed loop method control system
Vertical vs Folded
As a generally-used structure, in order to obtain the high magnification optical zoom for the vertical method, it is necessary to secure long focus distance, and therefore, the height of the camera module increases and results in a camera design that may undermine smartphone design. As a result, the camera module with vertical zoom method has limitations in obtaining high magnification optical zoom and typically can support up to 2-3x optical zoom only. The folded method applies a structure based on the principle of a periscope, folds light through a prism, and directs the folded light through horizontally aligned lens and sensors. Through this, there is no need to increase the thickness of the camera module when securing long focus distances, and high optical magnification.

The traditional vertical method of magnification requires the height of the camera module to increase as magnification increases, even up to such heights that make phone testing impossible at an optical zoom of 5X or more. The folded method allows slim design and high optical magnification without the protrusion of the camera module in the phone.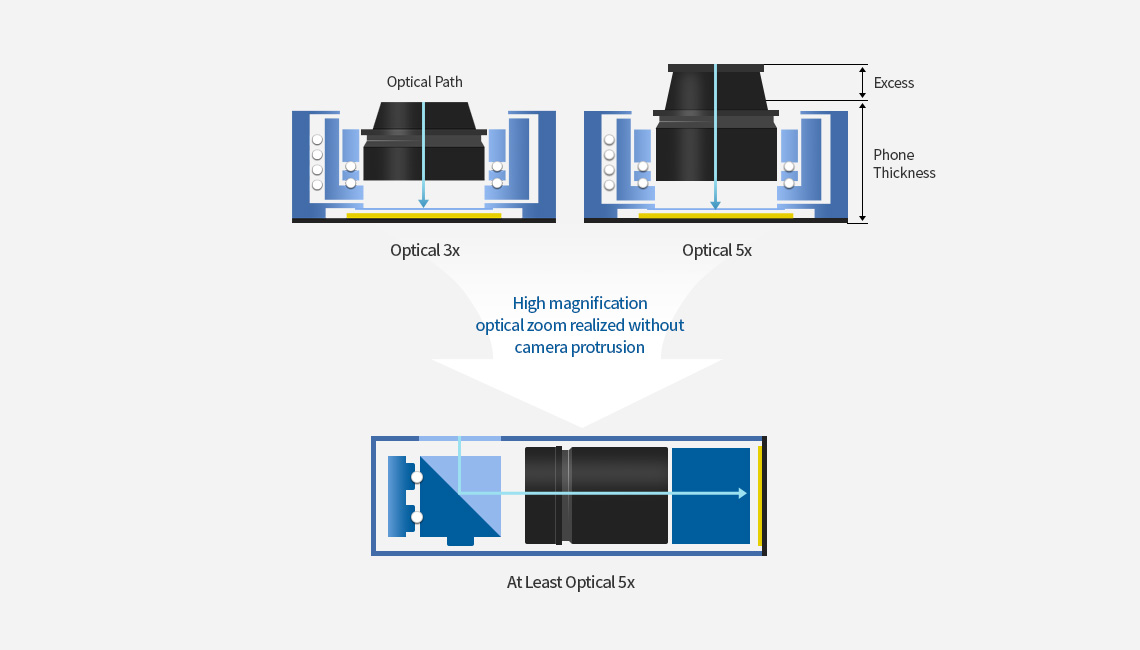 Lens
The lens is a product that creates an image of a subject on the sensor by collecting light emitted from the subject. Recently, we are able to provide various lens lineups in order to work with various types of camera modules, including wide, tele, ultrawide, and high optical zoom, incorporated into the smartphone.

High resolution slim lens core technology
Lens design technology for realizing high resolution
Precise mold production and assembly technology at sub-micron size
Consistent manufacturing system development of optics/optical tool design → mold design/production → lens injection/assembly
Slimming of various high pixel lens including 12M, 48M, and 108M
World's first mass production of 7p lens
World's first mass production of folded camera module with D-cut lens
* Sub-micron : Diameter 0.2∼0.1um, 1um=0.0001cm
Lens Assembled Products
Lens assembled products are generally comprised of 3 types of components, including barrels, lens, and spacers. The barrel serves as a case that brings together all lens components, the lens directs light so that the image is formed on the sensor, and the spacer serves a role in blocking out unnecessary light to prevent flares or ghosts while maintaining a distance between the lens.

* Flare : A phenomenon where the image looks fuzzy as a result of light being reflected within the barrel or the subject being too bright and resulting in a diffused reflection
* Ghost : A phenomenon where an afterimage is left at the location symmetric to the light source due to the reflection of strong light within the barrel or on the lens
Each lens parameter has a direct influence in determining the resolution of the camera module. In order to obtain an exceptional resolution, the following lens parameters are managed at the sub-micron level.
| Lens Measurement Item | Description |
| --- | --- |
| Decenter | Distance between the centers of both sides of the lens |
| Concentricity | Distance between the center of the external diameter of the lens and center of the effective area of the lens |
| Rib Thickness | Thickness of the rib (external side of the effective lens) |
| SAG | Distance from the rib of the lens (assembly base area) to the inflection point of the lens |
| Central Thickness | Thickness of the lens center |
In order to obtain high resolution, the management of lens parameters is important, but it is also important to minimize the optical axis distortion during the process of assembling each lens component. Through the directional assembly that involves the rotation and assembly of each lens component, it is possible to align the distorted optical axis to obtain clean images.

PCB
PCB is comprised of the combination of various materials, including PSR, copper foil, and insulators, then actuators, sensors, and circuit elements are placed on the PCB to transfer digital images through a circuit between components. The camera module uses a rigid-flexible PCB mounted by a curved shape in a dense space of electronic products and a flexible PCB for internal mounting of the camera module actuator.

PCB design core technology
PCB thin printing structure
(FR-4 0.3T, FR-4 Cavity 0.25T, Metal Cavity 0.15T)
Warpage interpretation automation
3D Warpage Scan
Electrical simulation
PCB Thin Printing Structure
The technological environment of mobile devices is rapidly progressing towards high performance and slimness, and in order to create slimmer camera modules, technology to reduce the thickness of components is required. The slimness of the PCB provides additional slimness to the camera module by using cavity PCB which reduces the thickness of the PCB in the area where the sensor is placed.
Item Picture
Thickness
FR-4 Normal PCB
0.3
Organic Cavity PCB
(Cavity FR-4 Material)
0.4
(Cavity 0.2)
Metal Cavity PCB
(Cavity Metal Material)
0.4
(Cavity 0.15)
Warpage Interpretation Automation
PCB warpage management is a factor that influences the optical performance of the camera module, and it is a key technology for high pixel/resolution camera modules. Warpage interpretation, based on the CTE mismatch theory, simulates warpage to provide prediction with higher accuracy. Using interpretation model, optimization algorithm development, and program development, we have automated the entire interpretation process. Through this, we obtain the optimal results then apply them to the design.
* CTE(Coefficient of Thermal Expansion) : Coefficient of thermal expansion, ratio of thermal expansion and temperature for an object withstanding a certain pressure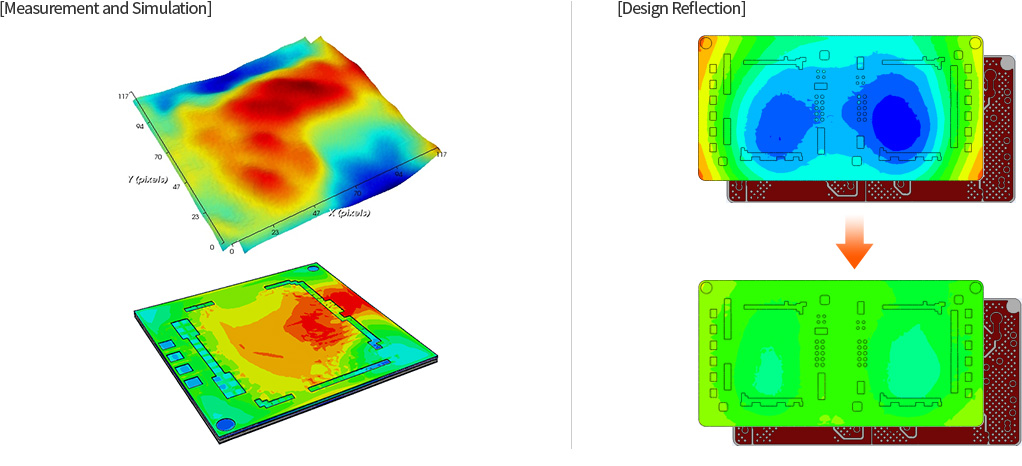 Electrical Simulation
With regards to camera module technology progression, high-speed signal transmission and low power are required, and design that minimizes losses with regards to low power component development and PCB design is required. Through electrical simulation of transmission lines, such losses can be predicted with greater accuracy, and design improvement points are continuously reflected.

Resistance [mΩ] analysis
Coupling coefficient [%] analysis
Module PKG
Through field test, assembly, and inspection/evaluation of optical components, our manufacturing technology provides optimized camera module performance.

Company internalization and securing of high productivity through precision technology
Slim PKG technology development
High precision assembly technology and equipment internalization
High precision assembly (Active Alignment) technology and equipment development for high resolution products
Product characteristic evaluation automated / particle inspection automated
COB
COB (Chip on Board) is a packaging method that connects PCB with sensors through wire bonding after attaching semiconductor chips on rigid PCBs. It is a method that is widely used for automation and for the standardization of products as well as the packaging of semiconductors and devices/products with exceptional reliability. At Samsung Electro-Mechanics, we apply various engineering methods to product development and manufacturing in order to improve precision in the coordination of optical axes and imaging planes during the camera module manufacturing process.

The process order for the COB method.
It provide the process order for the COB method

| Process | Item Picture | Description |
| --- | --- | --- |
| Die Attach | | Assembly combining die-status image sensors and PCB |
| Wire Bonding | | Connecting wires to ensure the linkage of electric signals between PCB and image sensors |
| Cleaning | | Removal of foreign material on PCB and sensors |
| Housing Attach | | Assembly combining PCB and housing |